!WARNING: This file is generated automatically.>
The Stockholm Archipelago in June 2010


Chart between Stockholm and Sandhamn
The good old kayak hadn't been out since our return from Indonesia in 2007, for three years already. Since then we had moved to an apartment in Stockholm and our boat had been laid to rest in the basement. The French-built Nautiraid was now 25 years old. It was time to get it out again! We decided to paddle out to Sandhamn island, a sail-boaters Mekka at the edge of the Baltic outside Stockholm.
1. Herrviksnäs to Sandhamn
To simplify matters we drove out to Herrviksnäs halfway between Stockholm and Sandhamn. We parked our VW van at the summer vacation home of good friends. They weren't home, but would be when we returned from our kayaking trip.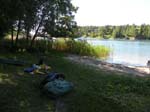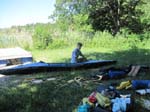 Putting the kayak together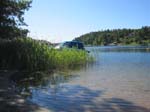 Off we go
We carried the boat down to the little beach and then put it together. This all went pretty smoothly considering the lack of attention the last three years (and, yes, there were some minor repairs that "had been forgotten"). After lunch our Nautiraid kayak slipped smoothly into the water. How nice it was to once again feel how it gently moved in the waves, and how it was propelled by our paddle strokes. The wind was a fairly uncommon Easterly, which was straight on our face. Oh well, it wasn't too strong and it was beautifully sunny.
This is a section that it is referred to as the Inner Archipelago of Stockholm. The vegetation is lush green (summer time!), most islands are quite close together, you see vacation homes everywhere and they can all be reached by car. We found a small island, empty and mostly surrounded by reed. Here we took a break.
At 6 PM the waters opened up - fewer and smaller islands further apart. There were much fewer vacation homes - no road access! People living on the smaller islands need their own boat to get there, since there is no public transportation. We were now in the Middle Archipelago and found an island right away, Runö, where we stopped and pitched our tent. Without ants it would have been perfect ... we walked around a bit and found a spot less populated by these tiny animals.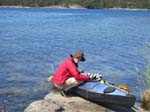 Lunch time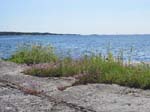 Sandhamn far away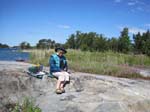 Rönnklippan

Similar wind and weather the following day. After a couple of hours of paddling (and crossing the main channel and arriving at a much calmer area) we found an enchanted little islet, Rönnklippan, just North of the big Runmarö island. It seemed like a must for a break and lunch.

We were surprised by the lack of other kayakers. In fact, during the four days we were out island hopping, we did not see a single other kayak. People we talked to later said that it was too early in the season (late June!).

Sandhamn <!############################################################>
2. Sandhamn to Herrviksnäs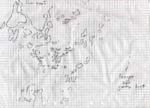 My own chart

After four pleasant nights at my brother's vacation home, it was time to head back. My original plan had been to just return the same way. Then Ghislaine asked me if we could take a different route back. A quick glance at the wall chart showed that there was in fact another way to paddle back, quite interesting and including a touch of the real Baltic Ocean. That would involve paddling South rather than North of the big Runmarö island.

Just one hitch: I hadn't prepared for this and had thus brought no chart of the area and there was none to be had. So I copied on paper the important parts of the wall chart we were studying. It would have to do and I figure out an easy way not to get misled by the abundance of islands around.

Stora Sudskär with the Sandhamn Island in the distance.

We first headed straight South in the Outer Archipelago, where the islets are mostly small rocks, there are basically no homes, and hardly any trees. The wind was straight in our face but light, so it didn't really bother us. At Stora Sudskär islet we stepped ashore for a while. Here the flora is fantastic and there are lots of sea birds (and poisonous snakes, of which we saw none).

Then we paddled around the island. Our Nautiraid rose and sank in the light swells of the open Baltic Ocean. After that enjoyment we steered West across Gråskärsfjärden, a fairly large open body of water inside the Archipelago (a kind of a bay).
The Lagoon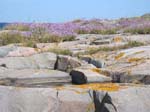 Lilla Hästskär

Lilla Hästskär with the tiny "lagoon"; looking West and East.

Right in the middle of this bay we passed a small island, Lilla Hästskär. As lunch was nearing and we needed both rest and food, it was an easy decision to make a stop on this gorgeous little island. Some waves had developed, but we managed to squeeze into a little lagoon-like area. Nothing longer or deeper than a kayak could have entered here!

We laid down to rest after our meal. But alas! The wind suddenly quickly gathered strength and the bay soon became choppy. The only way out of our little lagoon was to back the kayak straight into the wind. We did not look forward to doing so in heavy swells (the waves came from far, far away). Thus off we went and then continued in Westerly direction according to our "chart".

The second leg across Gråskärdsfjärden to the next island near Runmarö went smoothly, though the wind picked up to about 12 knots. But then, rather than continuing due West like I had planned, I steered a bit further to the South to make a shortcut. I shouldn't have done it! Since now we ended up in the middle of a maze of islands, something I had wanted to and well planned to avoid.

At this point the little "chart" was of no help. I hadn't even tried to mark all these islands on it (we shouldn't even be here!). There was no danger in what we were doing, but we did miss the little turn we should have done to pass through a narrow channel and head straight for Stavsnäs. Instead we found ourselves heading Southwards fighting an ever stronger wind to finally pass and then turn North on the other side of the Storön-Risselö-Ängsholmen islands.

I was amazed to find ourselves on the large bay Nämndöfjärden, about 2 nautical miles across and much longer than that. After a few minutes I got my bearings of what had happened. The 15 knot wind created good size waves, but they all came from behind now, so the rest of the day was an easy ride.

Nearby Södra Berghamn island; and Stavsnäs across the water

Further North the bay shrank and was down to only ½ nautical mile at Stavsnäs. Here we cut across all traffic channels (to make sure that we would still be flying with the wind!). Ghislaine wanted to take a break on an unnamed islet just South of Södra Bergshamn. But when I saw how enchanting it was, I quickly informed her that I wasn't going to move any more that day.

Nice evening

Breakfast

On the final day of our trip we paddled back to Herrviksnäs, where we arrived at 2 PM and where our friends had meals and a bedroom ready for us!
Summary
Paddling distances in nautical miles

June 23: Herrviksnäs -> Runö       6.8
June 24: Runö -> Sandhamn          8.4

June 28: Sandhamn -> Stavsnäs     12.0
June 29: Stavsnäs -> Herrviksnäs   8.0

Total: 35.2 nautical miles (65.2 km; 40.5 statute miles)


=================================================================