!WARNING: This file is generated automatically.>
The Middle and Outer Stockholm Archipelago in July 2014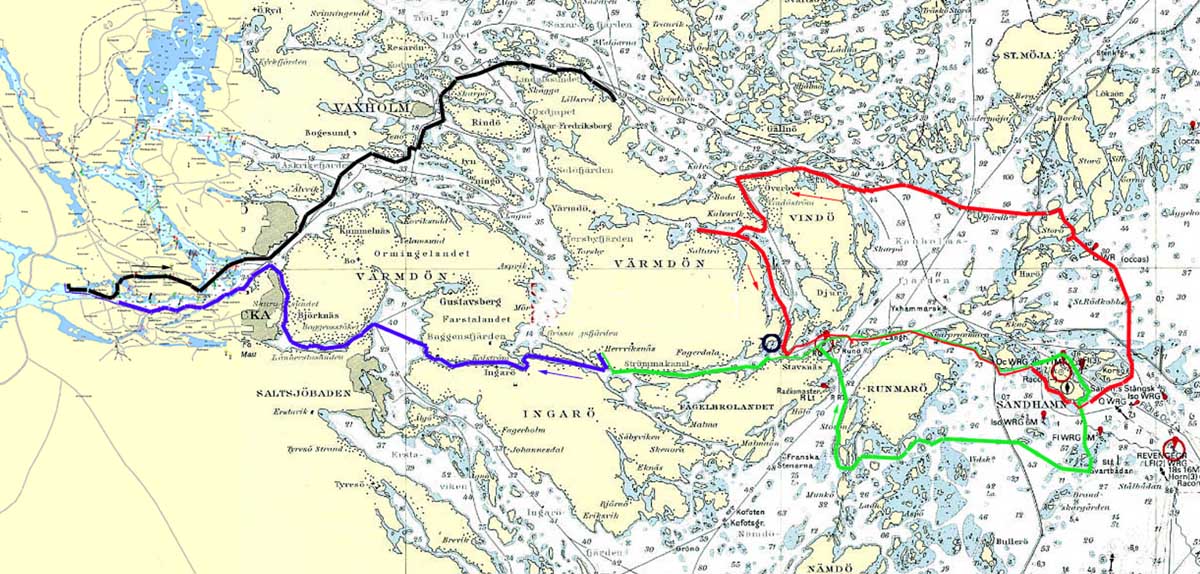 Chart between Stockholm and Sandhamn
2010: Herrviksnäs-Sandhamn-Herrviksnär: Green line
2010: Herrviksnäs-Stockholm: Blue line
2011: Stockholm-Lillsved: Black line
2014: Saltarö-Sandhamn-Saltarö: Red line
1. From Saltarö to Sandhamn and back
Three years had already passed since we flipped out French Nautiraid kayak on the way to Saltarö (Värmdö island East of Stockholm). At first, we did not feel too motivated. Then we had several kayak repairs to take care of, not just the one that caused us to flip (after all, the kayak was built in France in 1985. I bought it second-hand near Seattle in December 1992. It's been in the air ten times already, including Alaska, Mexico, Fiji, and Indonesa).
We had also been busy in the summers. This year, however, we made it a point to get on the water again. The kayak had been in Saltarö all this time, not far from the water on Värmdö.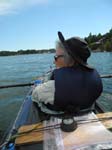 Along
Vindö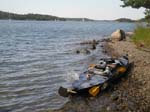 Djurö
lunch
stop
Paddling along Vindö/Djurö islands
After breakfast on July 20th we transported the kayak down to the water where we assembled it and stuffed it with all our gears. This took more than 1½ hours, since we hadn't done it for a long time. We cast off and soon emerged out of the long inlet on the Eastern side of Värmdö and headed South along the Vindö/Djurö islands [English: "Wind island/Animal island"] (which are actually connected by an istmus).
There was little boat traffic and the wind was light, so the paddle was easy and enjoyable. We stepped ashore on the Southern tip of Djurö for lunch, just before the bridge.
Djurö on our left, near Stavsnäs
After the bridge we entered into the Stavsnäs area with lots of boat traffic, so we stayed near the shore on our left to be out of the way. Then we crossed over to Runö island, which had been our first night stop on our first kayak tour in 2010. Then we had been on the Western shore. This time we wanted morning sun, so continued along the Northern shore. Homes everywhere! At the North-Eastern point they ebbed out and we saw a nice spot. Though looking around a bit, there was no nice landing spot in sight, so we continued further East to Råbocken island [English: "The stag"].
Råbocken island, our night camp
What a nice surprise! A beautiful, deserted island with nice and smooth rocks. It was sunny and warm inviting us to go swimming. Dinner was on the rocks (original sense of the words!) awaiting the late sunset. An old wooden boat passed by.
It was a bit tricky to find a spot for the tent AND the tent poles with rocks all around us, but we managed. The poles would not have stayed in the ground, had there been strong winds ...
Morning on Råbocken island
Such a calm and beautiful morning ! We had "breakfast on the rocks", prepared our things and then carefully slid out into the water.
Lunch on little Rönnklippan island
The wind stayed light all day. After a couple of hours of paddling (and crossing the main channel and arriving at a much calmer area) we found an enchanted little islet, Rönnklippan [English: "Mountain ash islet"], just North of the big Runmarö island. We had had lunch here on our first kayak trip in the Stockholm Archipelago, so a break for lunch seemed like a must, though it was a bit early.
We were surprised by the lack of other kayakers. We only saw two during the entire trip.
2. Sandhamn
The
Harbor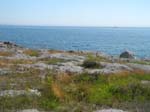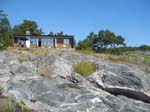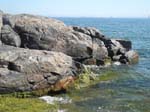 Geology
at work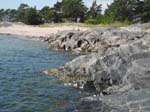 The
beach
Sandhamn
It was a few hours paddle to Sa outndhamn, where we landed on the "big Trouville beach". There were lots of people on the beach or out swimming, because it was hot and sunny. We managed to get into shore without bumping into anyone. A short walk lead up to my brothers with families and their vacation homes. We soon joined the swimmers on the "small beach" (picture) to cool off and get some rest.
Then I studied the rocks below the home and the low water level. My parents built this house in 1964, exactly 50 years ago. In this area the land rises 4 millimeters (0.16 inches) every year (it is still rising from the weight of the big ice cover, which melted away about 10,000 years ago!). So in 50 years that would mean a rise of 20 centimeters (8 inches). This difference was easily visible and it was awesome to study Geology At Work.
Sailing around Sandhamn
We were invited to go sailing out on the Baltic. It seemed perfect - nice sailboat, beautiful weather, nice comradeship, good food - but it was too perfect! Almost no wind ...
3. From Sandhamn back to Saltarö
Departure from Sandhamn

We regained control over our kayak in the morning when the beach was almost empty. Our boat had been surrounded and blocked from water access most of our stay at Sandhamn - the beach had been really crowded. We headed North East outside the island and rounded Korsö (English: Cross island) on the East side as well. The sea was empty except for one lone sailboat.

Northwards on Rödkobbsfjärden

We entered Rödkobbsfjärden [English: "Red-rocky islet-open water within an Archipelago"], an open water area with some small islands far East that protects it from the Baltic. It was calm, so we ventured near the islets to explore them. The water was clean and in the protected areas we saw lots of plants growing in the water.

On one small islet there was a herd of cormorants.

Lunch stop on Skottholmen

We moved along the mostly open waters on Rödkobbsfjärden but passed near several islets. On one of them, Skottholmen, the water was shimmering above the brownish rocks and looked especially inviting. It was possible to get ashore and drag the boat up on the rocks in protection from waves.

A nice, smooth rock became our table. There the work of the melting ice crust was particularly visible. As the 2+ kilometer [7,000 feet] thick ice started to melt, it also started gliding Southwards and grinding the rock along its way. Thus the North facing rocks are often extremely smooth and show how the ice shaped the granite and gneiss together, the former fairly uniform gray and the latter in often colorful stripes.

Rocks and birds

As we started to move away from the Baltic into more protected areas - not that it made a difference on a calm and beautiful day like today - the islets became wooded islands. Small rocks were, however, easy to find. On this particular one the seagulls were resting.

Camp on Furukobb

The route led along a small deserted island, Furukobb [English: "Pine-rocky islet"]. We debated whether to continue or not, since we had not quite paddled half the way back to Saltarö. The island beckoned to us and just looked too nice to be skipped, so we made an early camp. That gave us ample time to go swimming, explore the flora and prepare dinner higher up on the rocks. The sunset was golden. It was so warm outside that we did not even bother with the tent.

Short rest

It was supposed to be a nice and easy paddle back to Saltarö. But the rudder started malfunctioning in the morning, which made it harder to steer. After we had gotten back into the boat from a nice but very steep lunch-spot, we realized that it had broken completely on one side. After some fruitless attempts to get it back into order, I just lifted it out of the water. Now the Nautiraid kayak is made with the forward and aft (back) a little higher than the midships. This makes it easier to steer with a rudder - but too easy without one! Once the kayak starts to turn a little, it keeps on turning even more and you have to counteract this with your paddles. It was a fight for both of us to get back and we were quite tired and happy to reach the end. In addition, this was the longest paddle day.
Summary
Paddling distances in nautical miles

July 20: Saltarö -> Råbocken island a bit after Stavsnäs   7.0
July 21: Råbocken -> Sandhamn                              7.4

July 24: Sandhamn -> Furukobb between Storö and Storö      9.5
July 25: Furukobb (South of Möja) -> Saltarö              12.2

Total: 36.1 nautical miles (71 km; 44 statute miles)


=================================================================